Welcome To Arena Cheese!

Home of the Original Co-Jack and other fine Wisconsin Cheeses!
Arena Cheese is part of the Driftless Wisconsin Wine & Cheese Trail premieres October 13, 14 and 15, with special activities at each of fourteen businesses.
The Trail is comprised of these businesses located roughly between Madison and La Crosse. The route provides a tour of the stunning natural beauty of Southwest Wisconsin's Driftless Area, even more beautiful in autumn as the rolling hills glow with fall colors.
Baraboo Bluff Winery, Baraboo Arena Cheese, Arena
Branches Winery, Westby Carr Valley Cheese, LaValle
Rock N Wool Winery, Poynette Cedar Grove Cheese, Plain
Spurgeon Vineyards and Winery, Highland Organic Valley, Cashton Retail Store
Weggy Winery, Muscoda Pasture Pride Cheese Cashton
Wollersheim Winery & Distillery, Prairie du Sac Westby Creamery, Westby
Vernon Vineyards, Viroqua Nordic Creamery, Westby
Please visit driftlesswinecheesetrail.com for more information.
We currently are still shipping packages overnight. If you live in a state where the weather is now 60 or below during the day, or if you live in WI, IA, IL or MN please call 608-753-2501 to place your order. We can ship ground to those states. We will start shipping all products ground November 1st. Please come back and order your custom gift box with Arena Cheese.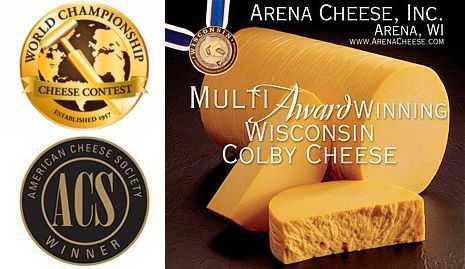 If you are looking for that perfect gift for that perfect someone then you have arrived at the right place! Whether it's anniversary gifts, birthday gifts, holiday gifts, or corporate gifts we are certain Arena Cheese unique gift ideas has you covered. Arena Cheese specializes in producing the finest Wisconsin Cheese for the entire country to enjoy!
Arena Cheese is located in the Wisconsin River Valley on State Highway 14 in Arena, Wisconsin. Arena Cheese is the home of the original Co-Jack Cheese and is easily recognized by the mouse in front of the cheese and gift store.
Arena Cheese is a 23-time medal winner in the US, World & ACS Cheese Contest!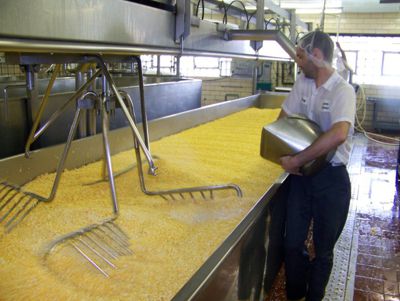 Watch How Fresh Wisconsin Cheese is Made
Arena Cheese provides a viewing area so you can watch our artesian cheese maker making different varieties of cheeses, Monday - Friday. Samples of some of our various cheeses are available for your tasting pleasure. Don't forget to take home fresh "squeaky" cheese curds made daily.
Bus tour groups are always welcome and a narrative of the cheese making process is available with an advance notice.
Please feel free to give us a call at 608-753-2501 for any questions or concerns.
Below is a list of Arena Cheese's best selection of Wisconsin Cheese:
Co-Jack
Colby
Chicken soup
French Onion Jack
Pepper Jack
Pepper Jack Deli
Mild Cheddar
Medium Cheddar
Sharp Cheddar
Super Sharp Cheddar 2 yr
4yr Old Cheddar
Baby Swiss Full Cream
Apple Cinnamon Cheddar
Medium Swiss
Aged Swiss
Mild Brick
Medium Brick
Aged Brick
Muenster
Caraway Muenster
Mozzarella Part Skim
Blue Cheese
Cream Havarti
Imported Dill Havarti
Provolone
Smoked Provolone
Aged Provolone
Cream Cheese
Fresh Cheese Curd 12 Oz.
Colby Caliente
6yr Old Cheddar
Party Pack
Vegetable Jack
Chipotle Cheddar
Cranberry White Cheddar
Garlic and Herb Colby
Ghost Pepper Cheddar
Tomato Basil Cheddar
Blueberry White Cheddar
Beer Cheddar
Monterey Jack
White Cheddar
Processed Cheese
Salami Cheese
Onion Cheese
Garlic Cheese
Bacon Cheese
Smokey Swiss & Cheddar
Smoked Cheddar
Special Diet Cheeses
Lite Farmers
Reduced Fat Cheddar
Miscellaneous
Goat cheese honey/ plain
Gouda
Smoked Gouda
Chocolate Cheese
Limburger 8 oz.
String Cheese 16 oz
Smoked String Cheese 16 oz
String Cheese Whips 10 oz
Waxed Cheese 4oz.
Black & White Cow
Red Wisconsin Shape
Mice
Meats
Jim's 1# & 2# Summer Sausage
Old Wisc. 9oz Summer Sausage
Old Wisc. 20 oz. Summer Sausage
Old Wisc. Beef Sticks
CHEESE SPREADS
Owls Nest Cheese Spreads
Spicy Beer Spread
Kaukauna Lite Vegetable
Habanero
Arena Cheese will ship cheese anywhere in the continental United States!
Contact us or call 608-753-2501 for a price list!
Service Area: Arena,
Oregon,

Mc Farland,

Poynette,

Reedsburg,

Mount Horeb,

Madison,

Cottage Grove,

Baraboo,

Monroe,

Verona,

and surrouinding WI communities.